The hotel Amnissos Residence in the city of Rethimnon continues its operation.
We are here to offer you excellent accommodation experiences. We consider it important to inform you of the measures we are implementing to ensure your health and safety in our facilities. Our staff strictly carries out the cleaning of all accommodation areas, carefully following the cleaning, hygiene and disinfection protocols.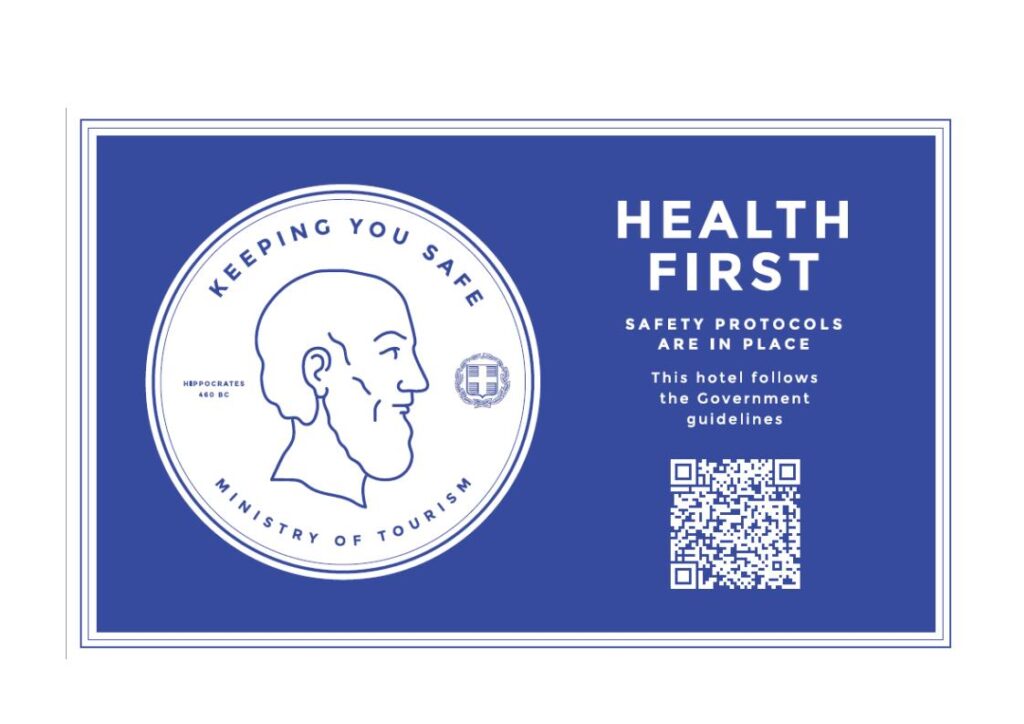 Our hotel adheres to health protocols, in accordance with the guidelines of the Greek Government.
These protocols include:
Regular training of our employees on hygiene issues.
Clearly established cleaning and disinfection cycles everywhere.
Apparent placement of hand disinfection devices.
Frequent cleaning and washing of busy areas and surfaces of frequent touch, including corridors, stairs, elevator.
Immediate response to emergency cleaning.
All the staff of the hotel have attended classes and have received certification regarding the disease Covid-19 which were organized by the Medical School of the University of Crete.
Our hotel in accordance with health protocols as defined by law, cooperates with an authorized doctor for the disease Covid-19.
Taking into account the current concerns about the new Coronavirus (covid19), we have established rules of stay so that together with the appropriate hygiene protocols and operating procedures, the well-being of our visitors during their stay with us is ensured.
These rules of stay include:
A special protective glass has been placed in the socket for the safety and protection of both customers and staff.
Devices for regular hand disinfection have been installed in all common areas of the hotel.
According to the health protocols as defined by the legislation, in all areas of our hotel the rules of physical distance must be observed which is 2 meters and for this reason a suitable floor and wall marking has been placed for the kind reminder to both the customers as much as our staff.
All our customers are provided with masks and antiseptic gels upon arrival.
All meals at the restaurant buffet as well as coffee, juice and all soft drinks and beverages at our hotel's main pool bar are served by our catering staff.
In all common areas of the hotel, indoor and outdoor as well as in the rooms it was carried out by a disinfection company, certified disinfestation, rodenticide and special disinfection in each room by the Fogger method.
We are constantly taking measures to clean and disinfect all areas of the hotel.
Our staff is equipped with masks and gloves, always adhering to health protocols.
As part of our commitment to the health and well-being of our visitors, employees and society, we are closely monitoring developments regarding the new 2019 corona (covid19) with regular updates and guidance from the National Public Health Organization (EO). D.Y.) and the Ministry of Health, as well as by additional governmental and European organizations. Based on the guidance we have received and the general state of our readiness, we are confident that our facilities and services are still safe and our teams ready to serve our guests.
We are very proud of all the staff of our hotel that in these unprecedented circumstances displays a very high level of individual, social and professional responsibility. In addition to the strict observance of strict rules of hygiene, operation, communication and coordination, they are exemplary hosts.
We appreciate every visitor who honors us with his presence at our destination. In Rethimnon, Crete.
Yours sincerely
Eleni Stratidaki – Kalligianni
President and CEO of AMNISSOS SA.
Pigianos Kampos Rethimno Crete